Ukrainian-Polish Cooperation Center was created with the purpose of coordination and dissemination of of business relations researchers and university teachers of educational institutions organizations and agencies in Poland, the study of language and culture of the people, to increase academic and student mobility between both states.
Main areas of activity:
- organization of in-depth study of the Polish language by three levels of training;
- Preparation for international exams for the course "Polish as a foreign language" on the Ministry of Science and Higher Education Program in Poland;
- specific courses of Polish language for the professional directions (Polish for economists, technical polish language, etc.);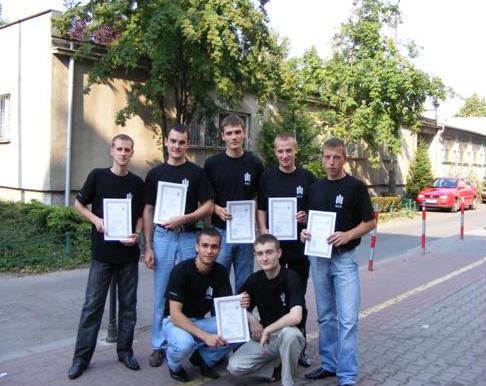 Graduates UPCC, Krakow 2008
- acquaintance with the culture, traditions and life of the Polish people;
- training, consulting and organizational support to a "Polish Card";
- organization of linguistic training in Poland for students of the Center;
- student exchange organization, representation cultural way of life of Poland and Ukraine;
- organization teachers and students internship of the National Mining University in educational and scientific institutions in Poland for training;
- the leading specialists exchange National Mining University and similar institutions in Poland for lectures, seminars, etc.;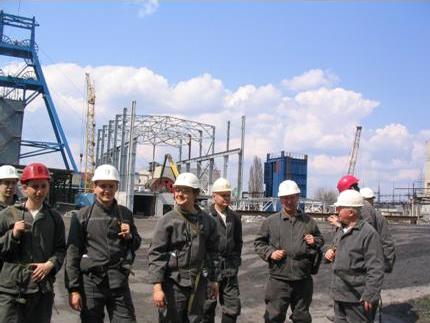 Students of Krakow Mining and Metallurgical Academy on coal mine "Stepova", JSC "DTEK Pavlogradvugillia"
- conducting and participating in theoretical and practical conferences, "round tables" about relations between Ukrainian and Polish nations, European integration problems, etc.;
- searching potential partners for cooperation Meeting Facilities for representatives of business intellectual circles in Poland and Ukraine for further establishing contacts;
- edition of of scientific and popular literature about various areas and sides mutual influence Polish and Ukrainian culture;
- setting up and searching connections with governmental and nongovernmental agencies in Ukraine, CIS and Poland, leading to similar work in order to use their contacts and experience, including public funds and partnerships;
- establishment of information and resource base of the best using scientific potential of the National Mining University for dissemination of information among universities in Ukraine.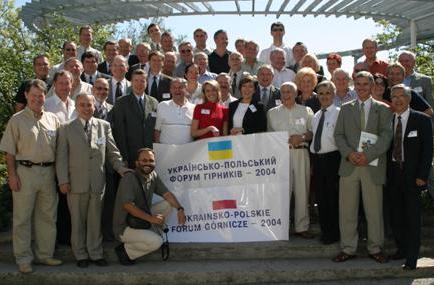 The participants of Ukrainian-Polish forum coalminers Yalta in 2004
The main objectives:
- presentation of the achievements of the National Mining University in Poland and other countries;
- linguistic training and cultural and educational work;
- coordination of scientists of university with establishments in Poland;
- expanding business relations with the academic community and the business community in Poland;
- scientific research within the Ukrainian-Polish projects;
- creation of common Ukrainian-Polish objects of the commercial activities and technologies transfer to production.